CS:GO Ranks – Competitive Skill Groups
March 12, 2023
CS: When participating in competitive matchmaking, you can match up with other players by using GO Ranks, also known as skill groups. Similar to the ELO rating, you receive a rating. You will face players with the same rating and skills as you, depending on your rating. The system will notify you and place you in a higher-skill group if you continue to win against the other team. However, the algorithms used to determine the skill group are unknown, so it is unclear how you rank up. To be displayed in a skill group, you must win ten matches if you haven't played competitive matchmaking yet.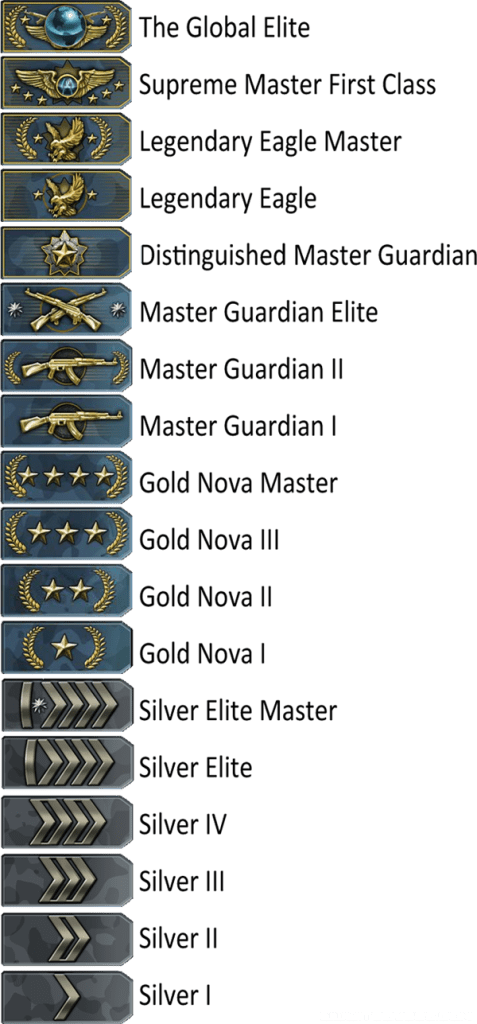 The ranks and skill sets are:
The Global Elite
Supreme Master First Class
Legendary Eagle Master
Legendary Eagle
Distinguished Master Guardian
Master Guardian Elite
Master Guardian II
Master Guardian I
Gold Nova Master
Gold Nova III
Gold Nova II
Gold Nova I
Silver Elite Master
Silver Elite
Silver IV
Silver III
Silver II
Silver I
The Global Elite consists of the world's best players, while Silver I consists of players with less experience.
Method of Ranking The method of ranking is, as previously stated, a mystery. However, we are able to provide you with some insight into its operation based on our prior experience. Every round, your rank can be raised or lowered. Loosing one round will ordinarily not decline your position – the framework is made so that throughout some stretch of time, you ought to on average win half of the time (this depends on players experience). The system will place you in a lower-skill group if you keep losing.
Another thing to keep in mind is that winning against players with a higher skill set appears to boost your rating more than winning against players with the same skill set. The rating will suffer more severely if you lose against a lower-skill group. One thing I noticed was that the system would put you up against higher-ranked players if you kept winning and topping the scoreboard. This, in my opinion, is done to determine whether you ought to be assigned to a higher-skill group before actually switching your skill group. The rank will go down or up more slowly in this way. I believe this is beneficial because it ensures consistency in the system and prevents you from being de-ranked for having a bad day.
CS Listing: CS ranks in GO: The official FAQ for GO competitive matchmaking ranks is Competitive Skill Groups.
A: What exactly is a skill group?
A. The CS is similar to an Elo rating in Chess: Skill Groups for GO competitive play make predictions about how well players will do against other players. When competing against each other, two teams with equal abilities ought to win equally as many games.
Q. Where might I at any point see my own Expertise Gathering?
A. Your Skill Group will appear on the main menu once it has settled and you have won ten competitive matches.
Where do Skill Groups appear?
A. Skill Groups appear in the match scoreboard, party lobbies, and main menu (once the skill group has settled).
Q: When will the party lobby display Skill Group logos?
A: In lobbies, a settled Skill Group will be displayed to other players by any player.
Q. I'm not a generally excellent player. Do I need to continue using competitive matchmaking?
Absolutely, A. Rather than jumping into a random game, competitive matchmaking matches you with other players with similar skill levels, which is more likely to result in a fun match.
Q: Should I avoid going to parties with friends who are less skilled because doing so will lower my rating?
A. No. First, your friend with lower skills will be taken into account by the matchmaking system when looking for a match. Second, the system predicts the performance of each team member during a match. As a result, your Skill Group is unlikely to be significantly impacted if you lose a match with a lower-skilled player on your team. Your Skill Group will match you well with teammates and opponents if you always play your best.
Q: How are you able to predict my skill when I've only won ten games?
A. We are unaware of your skill level until you play your first game. We use your wins and losses to determine which Skill Group you should be in as you play more games. The system's accuracy in determining who your opponents should be increases with the number of games played. If you win 10 games, we have enough information to confidently place you in a Skill Group with others of your level of skill.
Q. When are Expertise Gathering images displayed in the scoreboard?
A. Players with established Skill Groups will always display their emblem in front of their friends. Any player with a settled Skill Group will display it to the other players at the conclusion of the match, following the previous rematch.
Q: Why do I see a variety of skill groups on the scoreboard at the end of the match? In a match, shouldn't everyone have the same skill group?
A: There are only a few Skill Groups represented in the majority of matches. If there is a greater variety of Skill Groups, it is likely that those players joined the game as a group.